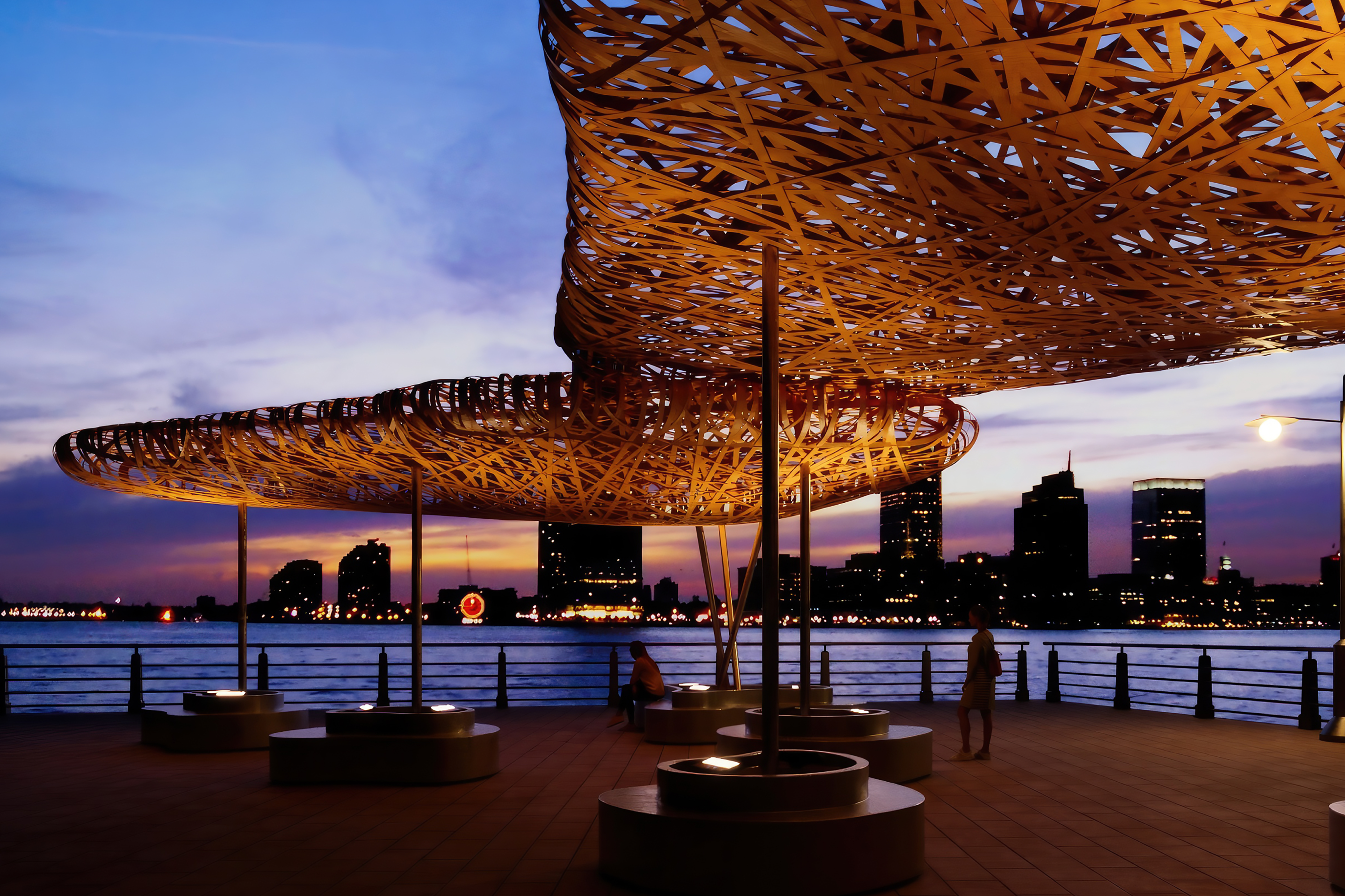 An installation
Designed by llLab.
Hosted by Hudson River Park at Pier 57
October 12-22, 11am – 9pm daily
Traditionally, bamboo is applied on the scale of handcraft, yet now, it has been recently popularized as the most organic, sustainable construction material beyond its commonly applied fields.
The advantage of using bamboo has not been thoroughly understood, and thus to date, most applications have remained superficial. But the llLab. architects have boldly explored and investigated bamboo's performance extremes to ensure optimal efficiency. During prototyping, bamboo strips, less than 1/4 inch thick and 1/4 inch wide, were used to test the threshold for lightweight construction. The process places particular emphasis on the unique material properties inspiring a wider range of construction applications in permanent architecture.
Woven through methods similar to basket weaving, Bamboo Cloud's overall construction and creativity breaks with convention. Bamboo Cloud, will hover over the Pier's promenade, a porous volume made of woven bamboo strips, naturally finding its form through resiliency of the material.
World renowned architectural lighting design firm, L'Observatoire International, collaborated with llLab. by washing Bamboo Cloud aglow with light. Partnered with Nanometer Lighting with Color Kinetics, suppliers of advanced technology high efficiency lighting, they bring Bamboo Cloud to another level of beauty.
Architectural Design
llLab. Based in Shanghai
Hanxiao Liu, Luis Ricardo, Lexian Hu, Fei Chen, Yujun Yan, Lingling Liu, Lihua Mi, Hao Zhang, Qiwei Zeng, Suian Xie
Team members: Yang Lu Engineered Bamboo Consultant: Yi Zhu, Fan Gong Team members: Hongtao Li, HaiYan Luo, Ping Wang
Exhibition Service Team members
Xiaohua Zeng, Gezi Chen, Beihu Liu, Peiyu Liu
Ping Wang, Guoxiang Wang, Chunliang Long, Hongchuan Mu, Qiongyao Liu, Haifeng Zhou
Xilong Zhang, Puqiang Liu
Lighting Design
L'Observatoire International
Hervé Descottes, Carlos Garcia, Esteban Varas, Jacinda Ross, Diksha Wahi, Studio Dubuisson, Philips Color Kinetics: Lead by Chris Bocchiaro
The studio's work focuses on using design as a tool to improve social and cultural life through various scales, from urban projects to micro-architecture or installations.
llLab. founders started their own practice after meeting in Germany. Founded in 2016, the principals were driven, and still are, by an experimental and playful approach that leads to conceptually rigorous and well-executed design projects.
Key projects include China National Convention Centre B1F Streets Spaces in Beijing, San Sa Village at the foot of the Great Wall, Beigala Nostalgic Station, WAAAM Art-Architecture Museum, The New Brickyard Retreat, The Beigou Art Renaissance Movement, kommon market and communal plaza, Village Opera Exhibition, System of Fun Community Space Creation for Industrial Architecture, in Beijing, Bamboo Bamboo, Canopy and Pavilions in Guilin, Guangxi Province, A Cultural Campus at A Stone Village in Shanxi Province, Fuxing Market – A Search of Old Shanghai Lifestyle, Curated Commercial Life Spaces, in Shanghai.
L'Observatoire International
and design firms in the world. Emphasizing innovation, thought-leadership, and partnership with every client, the pioneering firm has led the lighting design and art direction for dynamic projects, revealing the aesthetic qualities for interior and exterior spaces that range from museum and cultural institutions, performing arts centers, and retail interiors to restaurants, libraries, higher-education centers, private residences, and luxury commercial properties. 
L'Observatoire International has collaborated and built long-lasting relationships with leading architects and designers like Frank Gehry, Steven Holl, Jean Nouvel, KPF, SHoP Architects, Diller Scofidio + Renfro, James Corner, Bjarke Ingels, Richard Meier, Peter Marino, Shigeru Ban, Agence Dubuisson, Selldorf Architects, Gachot Studios, Roman and Williams, Agence Jouin Manku, Thomas Heatherwick, Thomas Jull-Hansen, Olin Partnership, Field Operations, Sylvain Dubuisson, PAU, Studio Sofield, James Turrell, among others.
Selected projects include the Museum of Fine Arts, Houston, British Galleries at The Metropolitan Museum of Art, Eisenhower Memorial, Fondation Louis Vuitton in Paris, the National Museum of Qatar, the High Line Park in New York, the REACH at the Kennedy Center in Washington DC, Pier 17 in New York, Alice Tully Hall and Juilliard School in New York, la Philharmonie de Paris, the Walt Disney Concert Hall in Los Angeles, Kiasma Museum in Helsinki, La Cite du Surf et de l'Ocean in Biarritz, Newtown Creek Waste Water Pollution Treatment Plant in Brooklyn, Columbus Circle in New York, the Mercer Hotel in New York, Theory Headquarters in New York, Jean-Georges in New York, the Grill at the Seagram Building in New York, the Boom Boom Room at the Standard Hotel in New York.
L'Observatoire International's offices is located in Downtown Manhattan, New York City.
Founder and principal, Hervé Descottes has been recognized numerous times by the lighting design and architectural community. He has received awards from the International Association of Lighting Designers, the Illuminating Engineering Society and the New York City Illuminating Engineering Society, the American Institute of Architects, the American Society of Landscape Architects, D&AD, the Municipal Art Society of New York City, the Architizer, the Dezeen, the AN's Newspaper, the Darc Award and the Interior Design Magazine Best of Year Award. In 2008, Hervé Descottes was named Knight of the Order of Arts and Letters by the French Minister of Culture. Hervé Descottes was named Best Lighting Designer 2020 by Interior Design Magazine.