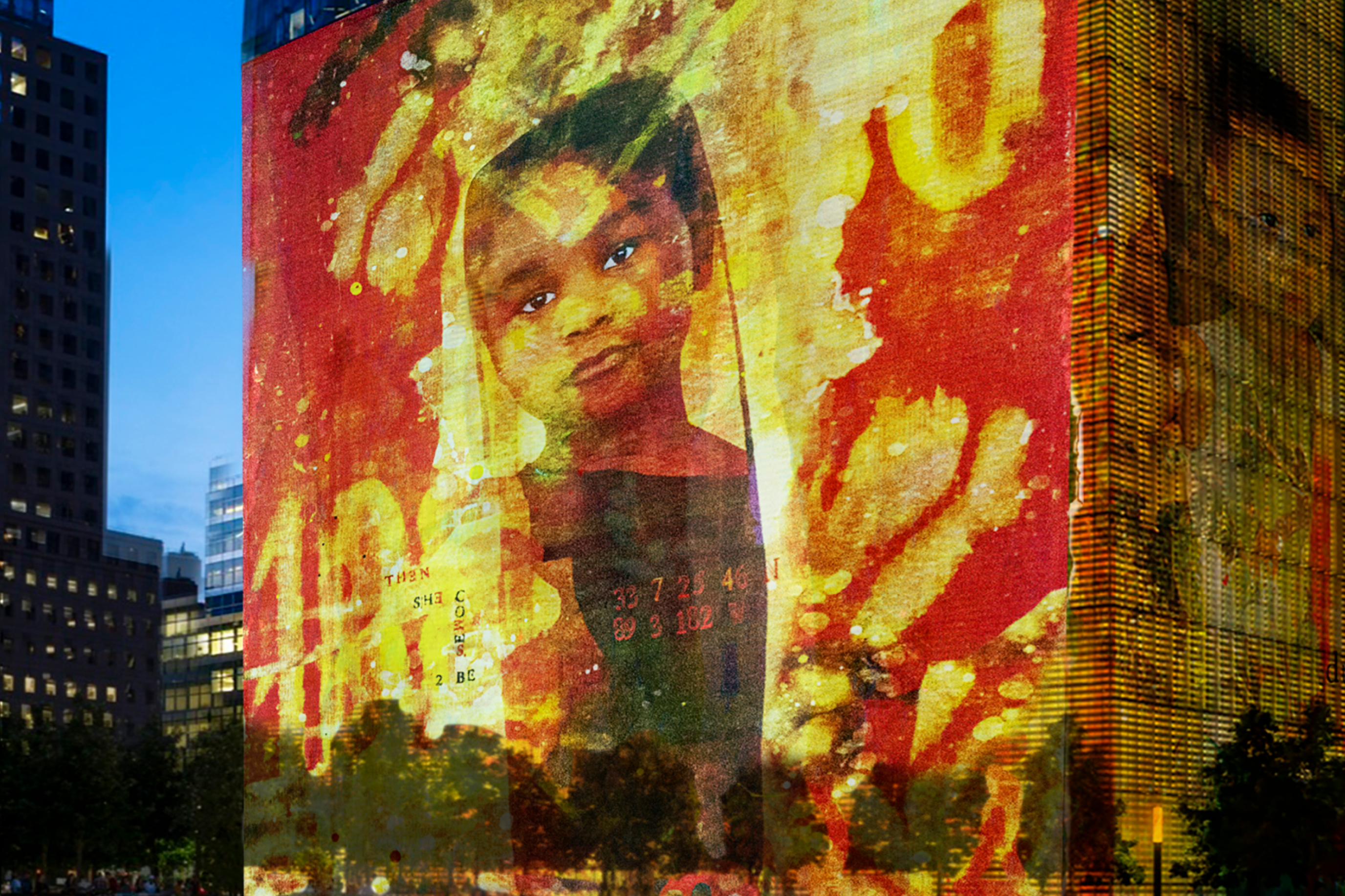 A digital presentation
Conceptualized by Marjorie Guyon, video and animation co-created by Marc Aptakin, Roy Husdell, and Yoel Meneses of MadLabs.
Hosted by SpireWorks on The Podium of One World Trade Center
October 12-22, 7pm – 9pm daily
For Design Pavilion, I Was Here combines art and design to depict the significance of memory, history, and ancestry and how all three come together to begin the process of healing 'wounded' sites by the legacy of enslavement around the United States.
Animated images of the Ancestor Spirit Portraits will debut in New York City on all four sides of the World Trade Center's Podium, rising 200 feet above the ground. This site, so deeply significant to our recent American experience, also overlooks New York Harbor and the intersection of Wall Street and the East River, the second largest auction site for enslaved Africans in the country.
NYCxDESIGN is honored to present I Was Here as a Design Pavilion project and to roll out the breadth and depth of its meaning over the next year in NYC through projections, digital experience, Augmented Reality, monumental Spirit Portraits, soundscape, poetic narratives, and dance, as we build out an experience to honor and commemorate those whose names we will never know and, in so doing, acknowledge the wound in our citizenship that enslavement created.
Partnered with creators Marc Aptakin and Roy Husdell at MadLabs, and Mark Domino of Spireworks, Design Pavilion creates this introduction to NYC as a subtle Dreamtime experience.
This is the first in a series of historic story-telling through art and design. This inauguration of the project in Lower Manhattan will be a silent testament to honor the power, beauty, dignity and grace of those who were instrumental in building the foundation of our country.
NYCxDESIGN believes it is vital to understand our past in order to shape our future.
Marc Aptakin, Chief Executive Officer, MadLabs
Roy Husdell, Chief Creative Officer, MadLabs
Barry Darnell Burton, Cameron Moody, Ashton Moody, Marshall Fields, Nana Bamfo, Isabella Parks, Marsha Fields, Iris Fields, Charles Sweat, Jaylen Edmonds
VisitLex and Kentucky Tourism, Arts and Heritage
Mary Quinn Ramer and Ouita Michel
The I Was Here project began in 2016 in Lexington KY, home to the largest auction site of the enslaved west of the Allegheny Mountain. A set of iconic Ancestor Spirit Portraits was created by photographing contemporary African Americans to stand in the gap as representative Ancestors. The portraits  form connected, intangible images that convey the transitional dignity of the African to African American individual and family – imagery mostly missing in America's visual history. 
Through photography, tapestry, projection, print, digital and unbounded possibilities of exhibition, 'Ancestor Spirit Portraits' have been integrated into key historic sites across America.
The "here" of I Was Here begins with an honest look at the history of place. The project creates a visual for an invisible history, asking us to examine who we are to each other, who we are as a nation and how we can work to repair the wound in our citizenship created by enslavement. The project draws attention to the untold stories of historic sites by using visual markers to create a monument honoring the humanity, dignity, power and grace of a People.
The installations create a transformational force in public space to acknowledge and heal a broken citizenship.  
I Was Here project is a 501c3 not for profit organization.